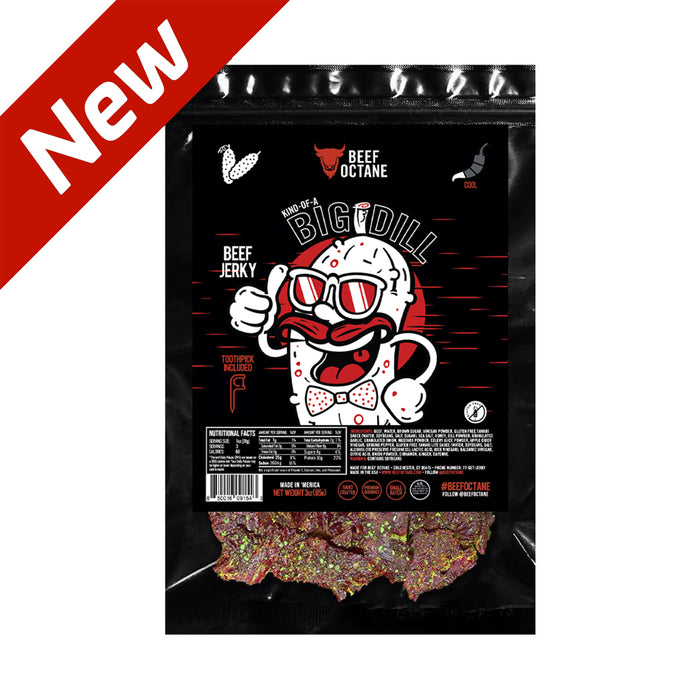 Dill Pickle Beef Jerky
Availability:
in stock, ready to be shipped
Original price
$11.99
-
Original price
$11.99

GLUTEN FREE
This product has been crafted to be Gluten Free!
NEW! Some people think they are kind of a big deal...but here at Beef Octane, we KNOW that we are Kind Of A BIG DILL!  
Our Dill Pickle Beef Jerky combines the savory and tangy taste of dill pickles with the rich and meaty flavor of our award winning beef jerky.  Our dill pickle flavoring adds a distinct zesty and briny taste that complements the natural umami flavors of the beef.  It offers a balance of sourness, saltiness, and meatiness, creating a mouthwatering snack for pickle and beef enthusiasts.  Also, our Dill Pickle beef jerky is Gluten Free!
Dill Pickle beef jerky can be enjoyed as a standalone snack or used as a topping for salads, sandwiches, or wraps. Its combination of flavors makes it a popular choice for those seeking a unique and satisfying jerky experience. 
Be sure to check back often, because at Beef Octane we're always dreaming up exciting new beef jerky flavors. Our jerky stands out because of our mission of combining the tried-and-true with the new and innovative — whether you want cool jerky, spicy jerky, or the hottest beef jerky available, we've got heat levels and tastes for everyone!

HEAT RATING

COOL - The hardest part will trying not to eat another bag!
HIGHLIGHTS

Gluten Free
Handcrafted
Small Batch
Made in Merica
Flosser Pick Included
3oz Bag
INGREDIENTS

Beef, Water, Brown Sugar, Vinegar Powder, Gluten Free Tamari
Sauce (Water, Soybeans, Salt, Sugar), Sea Salt, Honey, Dill Powder, Granulated Garlic, Granulated Onion, Mustard Powder, Celery Juice Powder, Apple Cider Vinegar, Ground Pepper, Gluten Free Tamari Lite Sauce (Water, Soybeans, Salt, Alcohol (To Preserve Freshness), Lactic Acid, Rice Vinegar), Balsamic Vinegar, Citric Acid, Onion Powder, Cinnamon, Ginger, Cayenne.

WARNING: Contains Soybeans