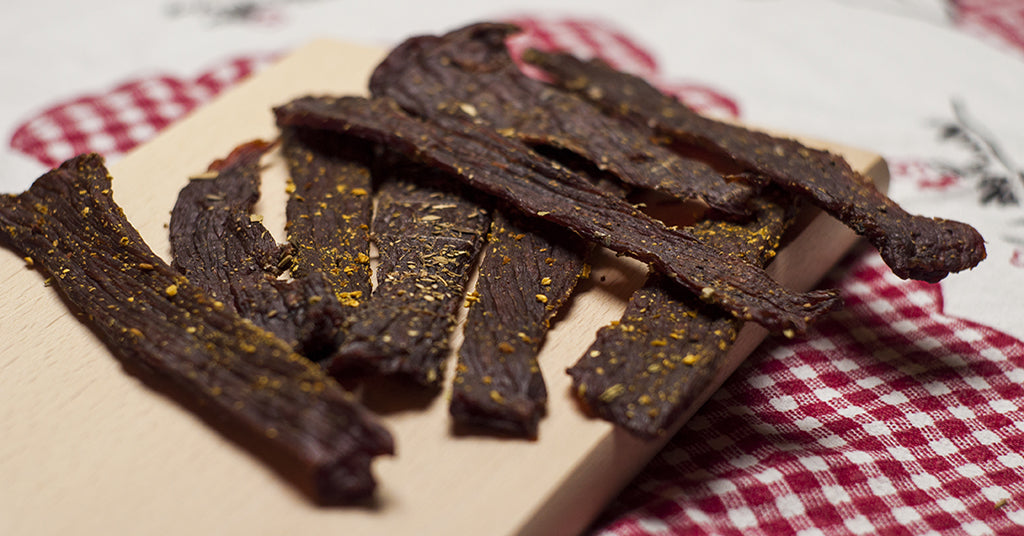 How to Make Insanely Good Jerky at Home
Learning how to make jerky at home is something every man should do at some point. With just a little planning and a few ingredients, you will have a delicious protein snack you can have while on-the-go. There are virtually limitless possibilities when it comes to what they taste like, so you can do a good deal of experimentation. There are two main methods for making jerky, one involving an oven and another requiring a dehydrator. We will go over both of them, so you can decide on which method you would prefer to use.
Let's dive right into how to make this incredible snack for road trips, hikes, and other things.
Choose Your Meat
Jerky can be made from pretty much any meat, but beef is the most commonly-used one. That's because it is really great at absorbing flavors well, while also having that chew factor that's part of the jerky-eating experience.
Make sure the meat you get is low in the fat department, since you won't get that jerky texture if you have a lot of fat on the end result. Having too much fat will also lead to the jerky spoiling faster. Some of the best types of beef to get for low-fact jerky are sirloin, flank steak, eye round, and top round.
You could also go more unconventional and make jerky out of other meats. If you're able to get your hands on it, elk, deer, turkey, goose, and bison can all be used to make jerky. Our instructions will work for any of these.
Trim Off Fat & Slice the Meat
You will want 2-3 lbs of meat, which will need to have all its fat trimmed off. Next, slice the meat itself. Depending on your preference, you can slice either with or against the grain. The key here is to make thin slices, meaning 1/4" in thickness. You don't want to get any thinner than that. You may find it easier to cut if you place your meat into the freezer for around an hour before slicing it. 
Marinate the Meat
This is the part of how to make jerky at home that will have a tremendous amount of variation, depending on what you decide to do. Marinating it will be largely up to your preferences, and you can find a wealth of marinade recipes online. Every marinade should start with 2 tbsp salt and 1/4 cup white vinegar.
Some of the most popular marinades are:
Teriyaki
Honey Pepper
Hawaiian
Sweet and Spicy Bourbon
Whatever marinade you decide to make, you will have to marinate your sliced cuts in it for around 8-10 hours in the refrigerator.
Add Dry Seasoning
Once it's done marinating, drain the marinade so that you can get the dry rub ready. Most jerky uses the same few ingredients for this part, with slight variations depending on how spicy you want your jerky to be. Take the following and whisk them together in a bowl:
2 tbsp crushed red pepper flakes
1/4 cup salt
1 tsp garlic powder
1 tsp black pepper
Feel free to throw in other spices, like cinnamon, chili powder, and others. This is where you can really go wild with the seasoning choices. Whatever dry rub you make, make sure you get both sides of your jerky dipped into it.
Dehydrate the Jerky 
Now is the time to dehydrate your jerky. You can use either an oven or a dehydrator.
To use an oven, lay down parchment paper on a baking sheet, while making sure there is a wire rack atop the tray. Place all your jerky onto the wire rack, letting the moisture left on the jerky to drip down onto the tray. The entire process takes 2-3 hours.
To use a dehydrator, put your jerky onto greased up trays in the dehydrator. Using this process will take 8-10 hours.
Enjoy 
That's it! Your jerky is ready to be eaten or stored. You can place it into a Ziploc bag and keep it in the fridge for up to three weeks, or place it in the freezer to last even longer.
Alternatively, if you want to take the easy route, you can buy premium jerky that's already made by professionals. Beef Octane has some incredible jerky flavors that will blow your mind and taste buds. We've got beef, chicken, and turkey jerky in several tantalizing flavors. Shop around and find out what you like!