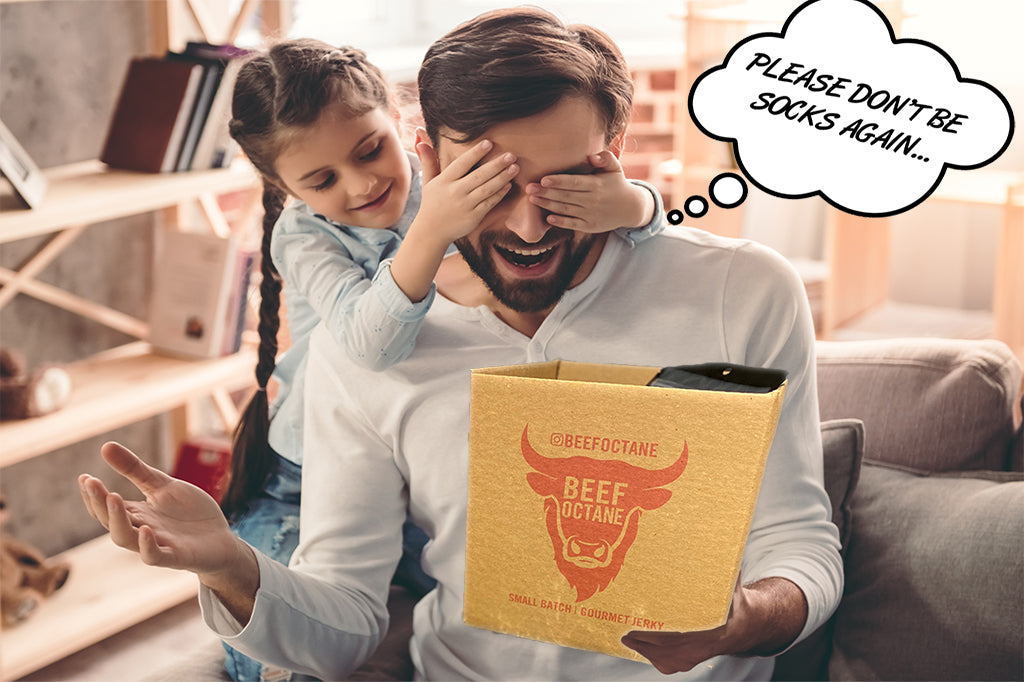 Father's Day Jerky Gift Ideas
Father's Day is quickly approaching, so you know what the means. You're going to have to figure out what could be considered a great Father's Day gift. Not to worry, because we've got you covered.

If your dad is a man (and it would be strange if he weren't), he probably loves beef jerky. Who doesn't like chomping down on some jerky as a snack? This is one of the few types of food-related gifts you can give your dad without feeling weird about it. Also, he's going to love and appreciate some high-quality beef jerky. And for high-quality beef jerky, you don't have to look any further than Beef Octane. We have all the delicious beef jerky flavors you could dream of — check out our shop to see for yourself!
Spicy Beef Jerky 
We have many
different varieties of beef jerky
available to buy. If you want to go with a tried-and-true Beef Octane classic, you have to get your dad
Bearded Reaper Beef Jerky
. This premium gourmet artisan beef jerky is made with authentic Carolina Reaper Peppers, which takes the spice factor to 11.
Thanks to the blend of peppers and spices, this is a jerky your dad will especially appreciate if he likes things hot. 
Sweet Beef Jerky 
If you know your father doesn't like things insanely spicy, you can go with something more subtle and sweet, like our
Honey Pepper Beef Jerky
. This is one that tastes sweet like honey while getting a little extra spice from the cracked peppercorns. This is the ideal blend of sweet and mildly spicy that has cemented it as one of our most popular types of beef jerky sold. 
Other Types of Jerky 
But wait, you say your dad doesn't like beef jerky. While we find that hard to believe, we understand people have different tastes. That's why we also sell other kinds of jerky. That's right; there's also chicken jerky and turkey jerky available, so you are bound to find something your old man enjoys. 
Chicken Jerky
Our
Blazin' Buffalo Chicken Jerky
has a subtle and sweet taste, thanks to our unique Gourmet Buffalo Sauce, that is combined with blazin' hot spices to make for an incredibly delicious combination. This is very tender chicken jerky, which separates it from the usual chicken jerky fare you come across. This is thanks to our slow-cooking process, where we increase the cooking temperature the longer we cook the chicken. This makes for a juicy chicken jerky the likes of which your dad has never had. 
Turkey Jerky
We even have jerky for the turkey fans out there. Our savory
turkey jerky
is incredibly delicious and hard to put down. This is thanks to the honey, molasses, and sesame oil we fuse with the turkey, to help it retain its moisture during its curing. This is another excellent alternative to chicken jerky and beef jerky. 
Still Not Sure?
If you aren't exactly sure what your dad's taste buds are after when it comes to jerky, not a problem! We also have
gift cards
that will let them browse our large jerky selection for themselves. 
Get your dad a gift this Father's Day that he is bound to love, by giving him some premium gourmet artisan jerky.